Two collections of vases by Jan van der Vaart (1931-2000)
This spring sale features a collection of vases by Jan van der Vaart. It concerns both uniques and multiples. The majority of the vases come from the collection of Theo van der Vaart, the brother of Jan van der Vaart.
Johannes Jacobus van der Vaart was born on October 17, 1931 in The Hague. In the early 1950s, Van der Vaart took a pottery course at the Free Academy in The Hague, after which he started as an independent ceramist. During his lifetime he was considered one of the most important Dutch ceramists of the twentieth century. As the founder of a geometrically constructive direction within post-war ceramics, he was particularly influential at home and abroad. His work is very recognizable because of its idiosyncratic character; it is clear in shape, without decorations and focused on use.
In addition to unique objects, Van der Vaart wanted to make useful quality ceramics for a large audience. In this way, in addition to his uniques, the 'multiples' were created; objects that were made in limited edition. By making the objects in small editions, they acquired the authenticity of unique works of art, but at the same time remained affordable. Casting techniques were often used for both his uniques and his multiples. In the case of the multiples, the shapes often came entirely from one mould, for the unique pieces, several parts were cast separately, which were then joined later into one whole.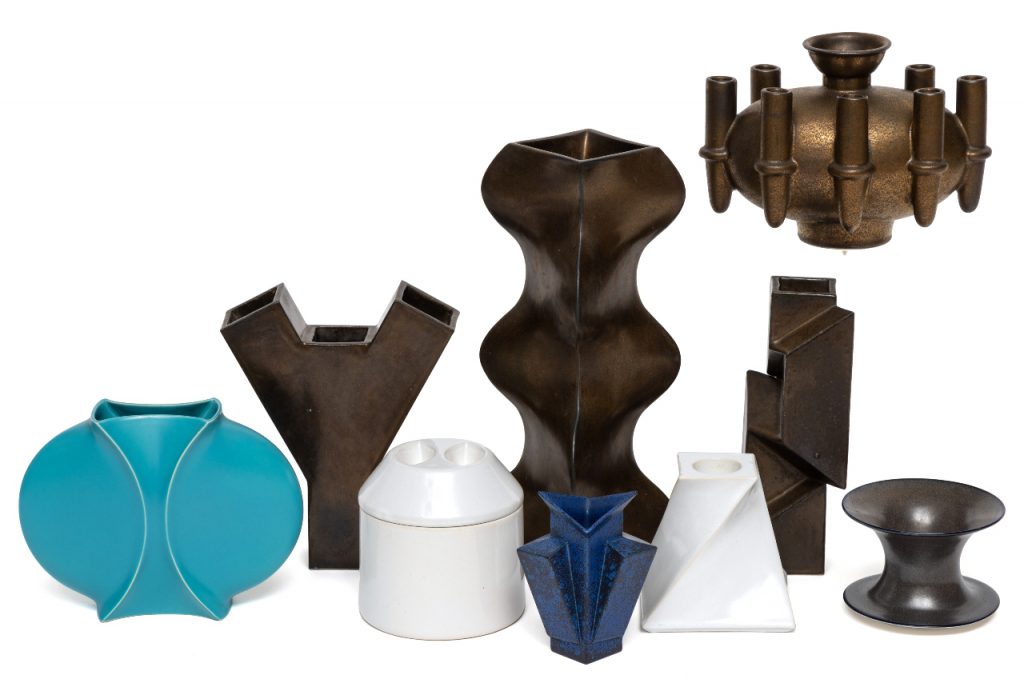 Theo van der Vaart and his partner Hans led an adventurous life. They traveled extensively and lived in both Mexico and Texas. In both countries they sought contact with young artists from whom they regularly collected art. Both had a great fondness for folk art. This art form showed the 'hard, real' life. It's these, non-commercial pieces, that just touched them the most.
In Amsterdam the couple had a gallery where, in addition to this 'exotic' craft, the work by brother Jan was also sold. The collection from the gallery of Theo and Hans can be summarized as 'a large global foraging trip'.
Jan van der Vaart's daughter, Jessica, tells of her uncle Theo that he described his brother's work as: 'Beautiful vases, but not all equally suitable for placing flowers'. Regularly when Theo came to visit his brother Jan, it sounded: 'Oh, here! Take these home with you.' However, as soon as Theo came home he discovered that a signature was missing, fortunately he did not need confirmation that it was the work of a famous ceramist.
The lot numbers from this collection can be found under: Nalatenschap Theo van der Vaart, Amsterdam
The person who submitted the Rietveld chairs also donated a number of vases by Van der Vaart. You will find these under: Provenance: Collectie familie Brouwer