"And guess what, she had just sent out a sixteen-year-old child with an envelope containing 10,000 guilders!"
It is the end of spring that we receive a call from a lady who may want to put her jewelry collection up for auction. A very cheerful woman is on the line, who does not mince her words even in our first telephone conversation. I offer to visit her sometime so that she doesn't have to travel with her expensive pieces. That was good, but not too early, because the horses and chickens still have to be fed first and the dogs also have to be taken out for a while. I'm looking forward to visiting this lady who already says on the phone that we are going to have a nice lunch before we go to work.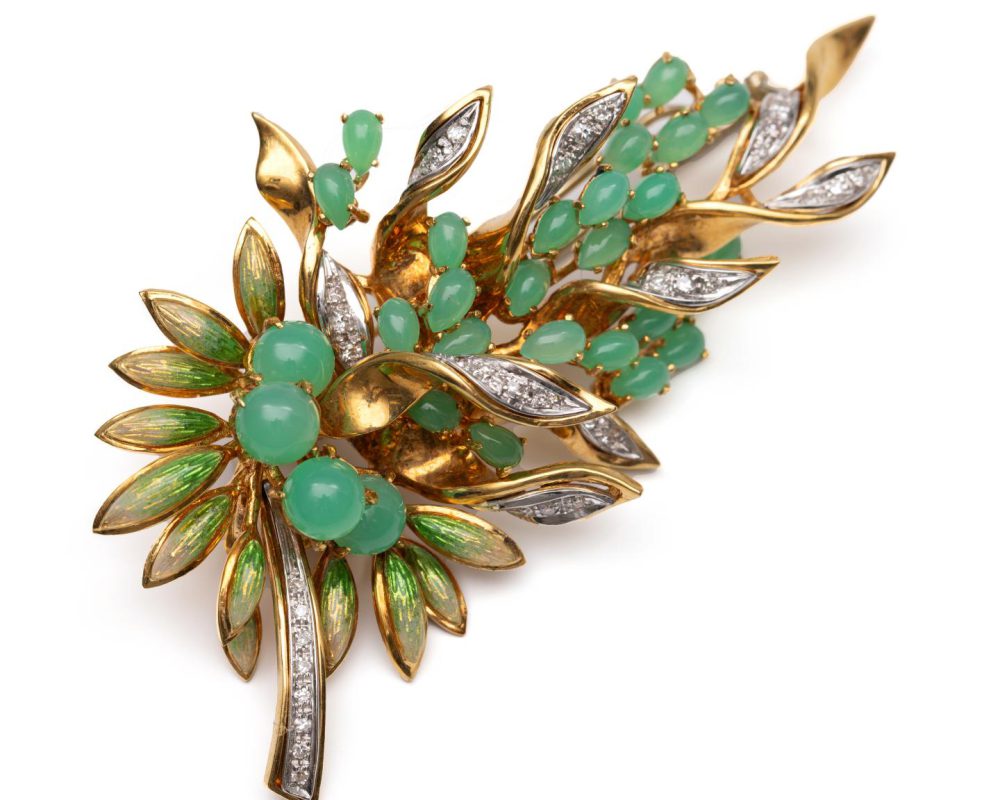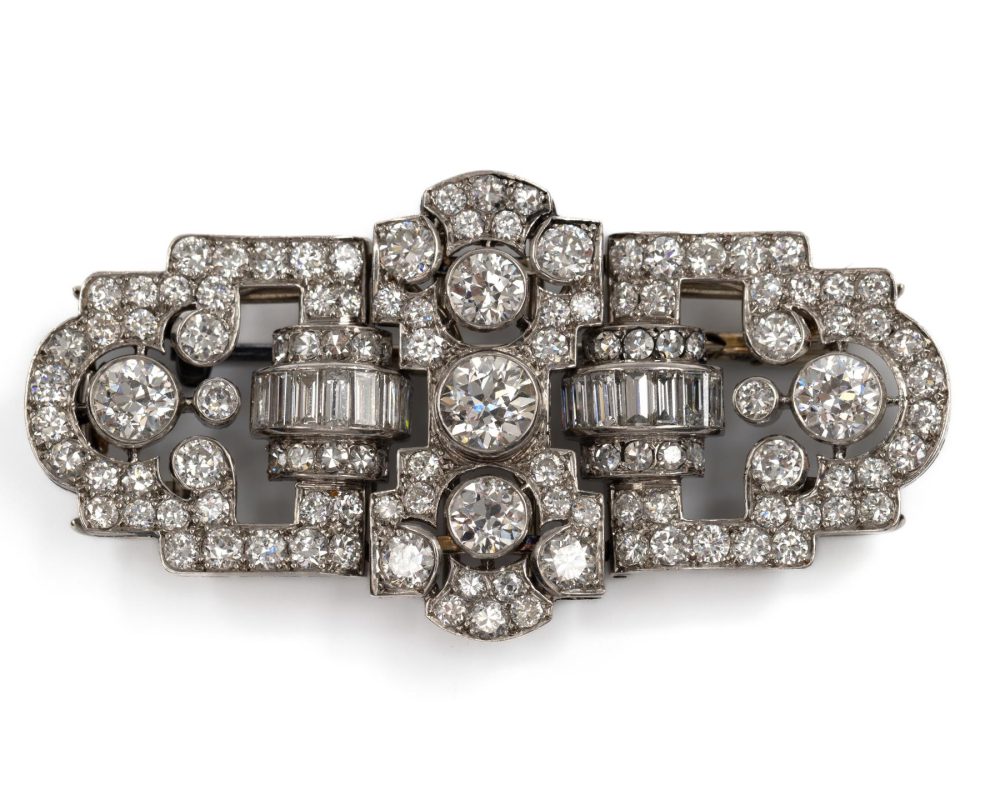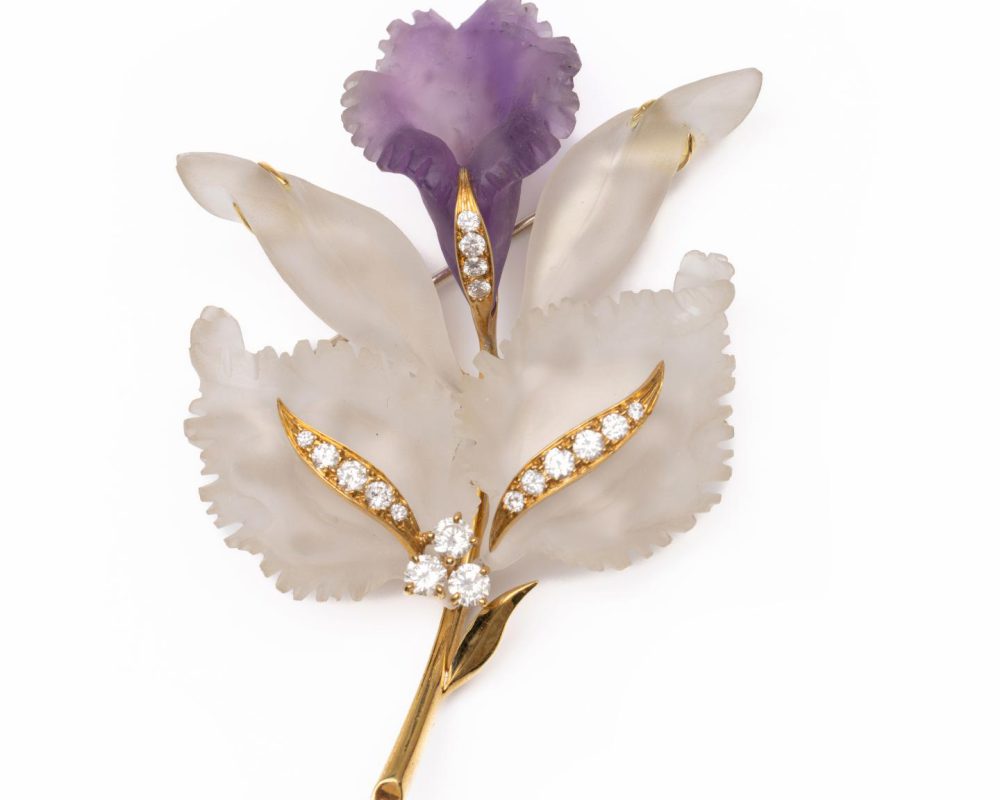 In mid-July I drive into the yard where I am noisily greeted by two dogs. There is a lady at the door, small in stature with a very cheerful face. She invites me into her kitchen and I notice that she really loves the color yellow. In addition to yellow kitchen cabinets and chairs, there is a yellow garbage can, a yellow coffee maker and so on. I wonder how you manage to find this in the first place. Once at work, a carefully managed collection of jewelry is presented that shows an enormous love for extravagant jewelry. This is not an appraisal with a cautious 'Dutch' flavour. No row ring, no delicate stud earrings, but white gold branch brooches and not one but about three, an impressive French link bracelet, many large brooches with impressive flowers (including lot numbers 66, 67, 86), jewelry with brown Tahiti pearls (lot numbers 293 – 295) and the centerpiece, an Art Deco clip brooch set with diamonds (lot number 43). The brooch does not consist of the usual two parts, but of three and is in great condition. It is a pleasure to take the brooch apart and put it back together again. I could fill my day with it.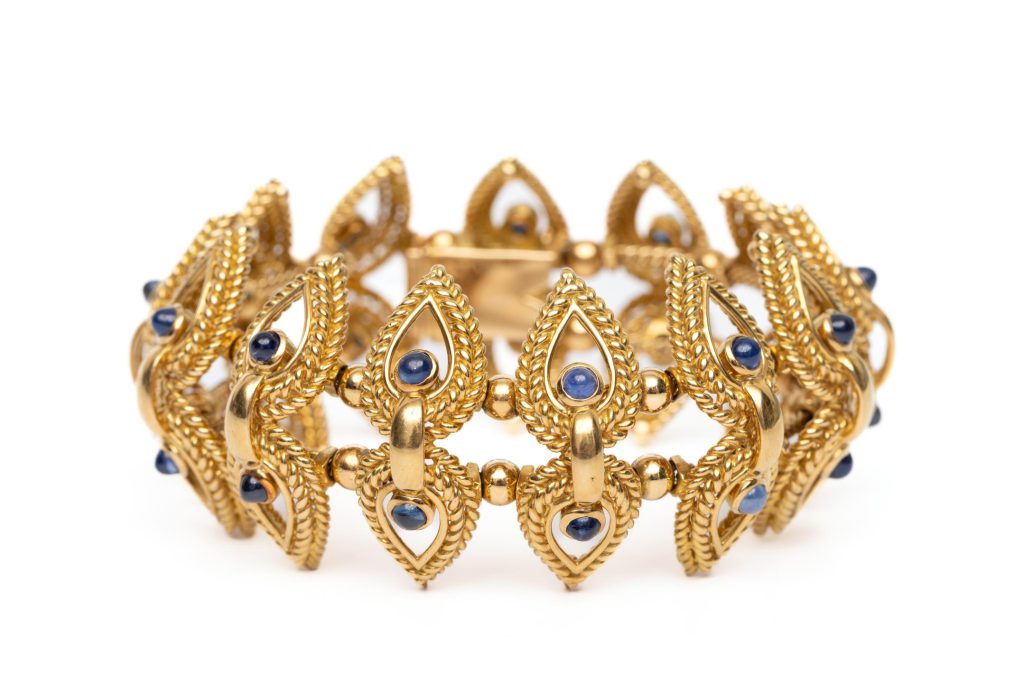 With enormous appreciation and curiosity I watch how the small plastic bags are opened one by one and what exciting things emerge. One of the dogs has laid down on my feet and the head of one of the free-ranging chickens appears in front of the window. I enjoy every minute with this lady. While opening the many bags, the lady tells the most beautiful stories. About how she had the blue sapphire replaced for a yellow one on the entourage ring (lot number 193), because blue is so standard, and about the more than impressive French link bracelet (lot number 34), bought by her mother at Bonebakker on the Rokin. Whether she, as a girl of about sixteen, would like to pick up and pay for this purchase. With an envelope she went into the store where the envelope was opened and the money was counted. It turned out to be a huge amount and therefore a very valuable bracelet, she says: "And guess what, if only she had sent a sixteen-year-old child away with an envelope containing 10,000 guilders!"
The lot numbers from this collection can be found under: "Uit de collectie van moeder en dochter, twee gepassioneerde juwelenliefhebbers"