Jan de Goede was born in Amsterdam in 1938. He was the son of a pastry chef with a shop in the Dapperbuurt. The family of eight lived above the shop. From his early youth he worked in the bakery and later took over the shop from his father. He turned out to have a very good business instinct and after a few years he sold his three shops and founded a factory for pastry products. At the age of fifty he sold his company to Unilever and from then on had a free agenda.
During his time as director of the factory he developed a curiosity for the spiritual and the arts. He took painting lessons in the Van Gogh Museum from Peter Schenk, a later good friend with whom he made a long walking trip through Lapland. Later he also traveled to Antarctica in the company of Boudewijn Buch, among others.
Jan's children also soon received lessons in the Van Gogh Museum studio. He also practiced Yoga early on when such spiritual expressions began to manifest in Europe. For example, the I-Ching was always consulted for important decisions. He was constantly looking for the possibility of increasing his confidence in his intuition. Letting go of the mind and allowing the feeling.
Shortly after selling his company, Jan started taking autonomous art lessons at the AKI in Enschede. His friendship with Alphons Freijmuth was just beginning to take shape and a wonderful opportunity arose. Jan had a nice car and drove Freijmuth to the AKI every week. In return, Jan was allowed, with due modesty, to participate in painting, drawing and sculpting lessons. Jan was immediately included in the group due to his youthful enthusiasm and he retained several close friendships from that time until his death.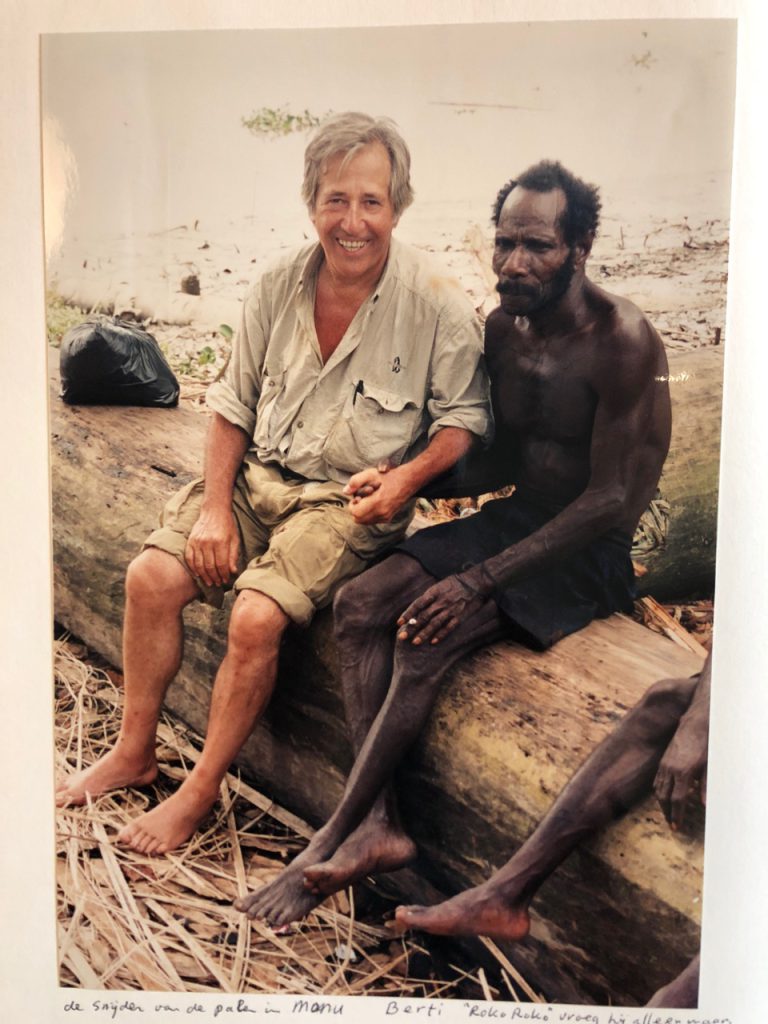 It is therefore not surprising that during that formative time his work also showed strong affinities with the New Figuration. Freijmuth introduced him to a group of artists, through which he also became friends with artists such as Reinier Lucassen, Eugene Brands and Jan Sierhuis.
The most formative experience was a trip to Papu New Guinea in 1995. Together with Koos Knol, an experienced traveler to that region, he traveled through the rainforests to a small village in the Asmat. There was no talking to the population. He later said that he sat on a tree trunk for three hours with a sculptor, holding hands. He had never learned so much about life as he did in those three hours. He felt a very warm connection with the culture of the Asmat. There he also met sculptors Rufus Sati and Roman Omoma.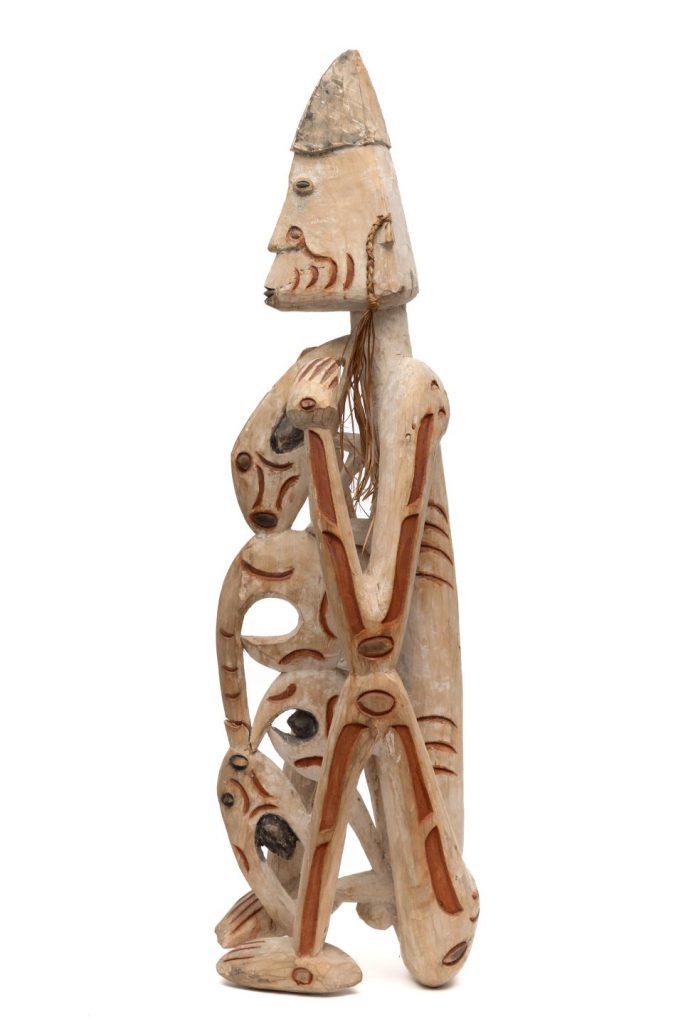 After returning to the Netherlands, he met a group of artists who also had a strong bond with the Asmat, including Roy Villevoye and Thijs Goldschmidt. They received a message from the Asmat that Sati and Omama wanted to come to the Netherlands, to Jan Tua. That is the name Jan was given in Asmat. So it happened. Both men left their surroundings for the first time in their lives and flew to the Netherlands where they slept on the floor together in Jan's studio for 6 weeks and made a series of sculptures from a fallen tree in the Vondelpark. One of those statues is an ancestor statue of Jan's father. This statue has now been included in the collection of the Amsterdam Museum. Together with a painting by Jan himself. In the current auction a statue is offered, lot 3646, by Sati.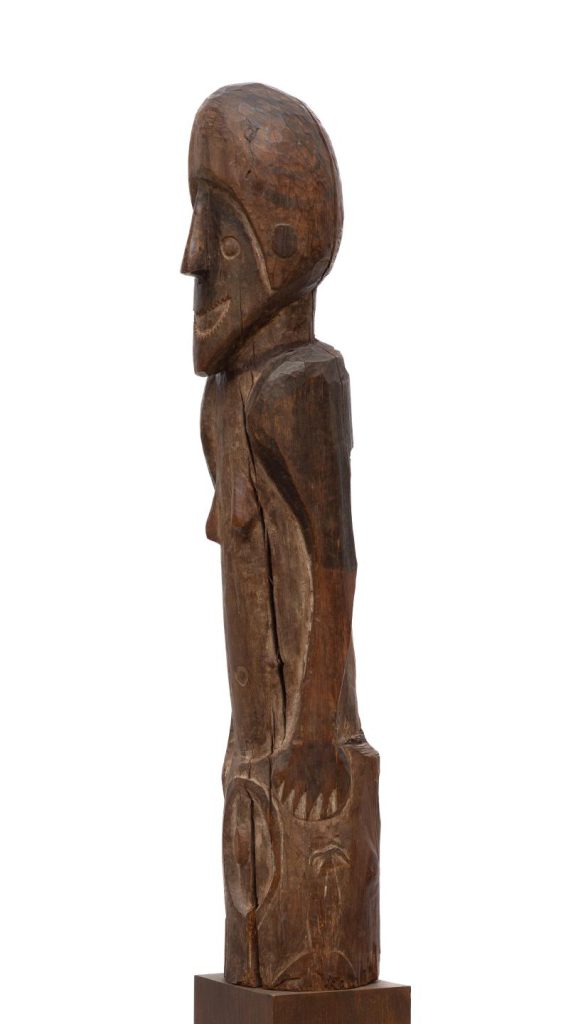 One of the strongest sculptures in Jan de Goede's collection is the old Sentani column figure, lot number 3646. The corpus of images of the Sentani is not large, and this sculpture was therefore included in the first exhibition on the culture of the Sentani, 'The Art of Lake Sentani', 1959, figure 36, in New York,
Jan worked hard in his studio in the following years and created hundreds of works. At his now older age, he did not have the urge to take the gallery world by storm. It was work that needed to be done and made him very happy. He was also an avid art collector. When he started building his art collection, it consisted of works by Appel, Corneille, Heerup, Raveel, Asger Jorn and other Cobra-related artists. These works were later sold and replaced by a large collection of ethnographic items. Some pieces were purchased in the Asmat itself. This was later supplemented with works purchased from renowned art dealers, smaller importers and artists such as Lucassen. Many of these works are now up for auction at De Zwaan.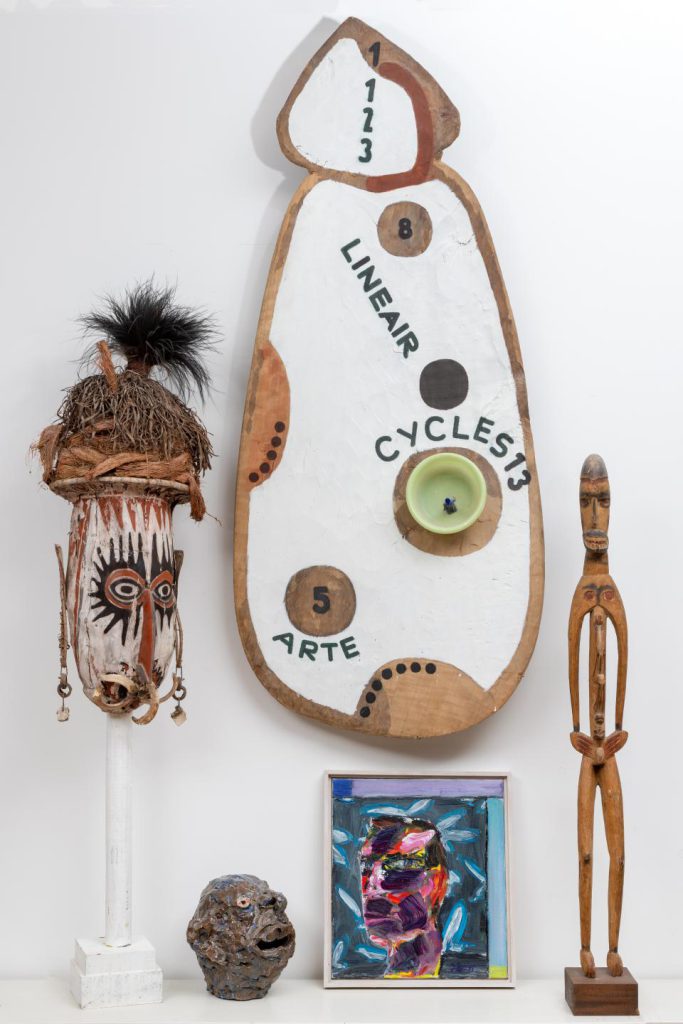 One of the special modern works of art from this collection is a modified Asmat shield by Reinier Lucassen, lot number 5002.