Two extremes on the table
Both the lover of antiques and the lover of design can complete the dining table this Christmas with a set of very impressive silver candlesticks.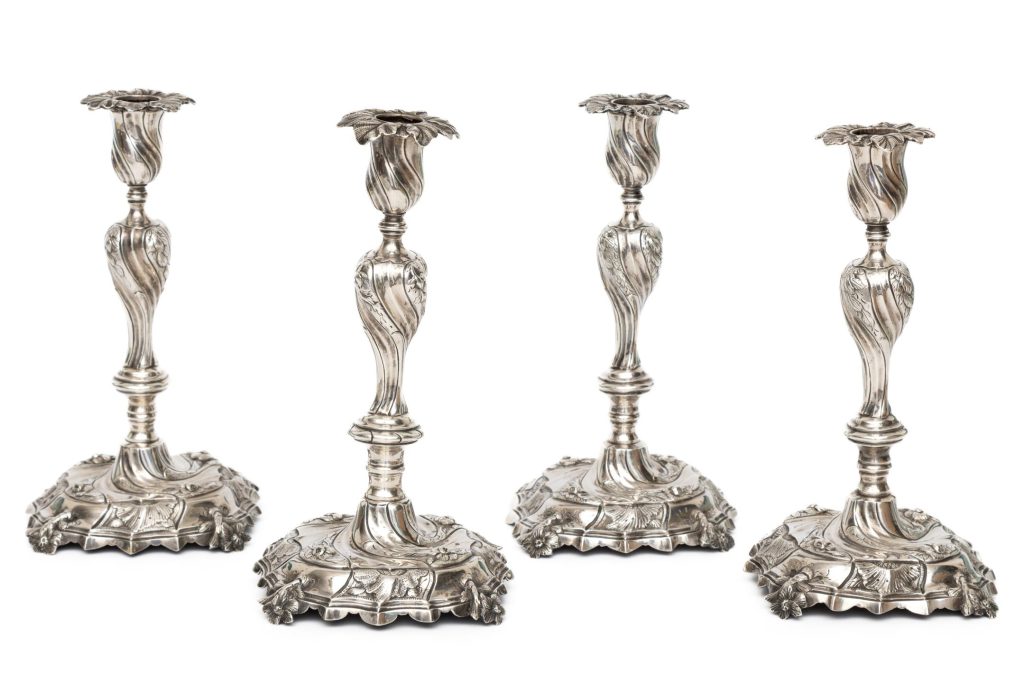 The first set with lot number 662 consists of four Louis XV candlesticks, attributed to Wijnand Warneke (1763-1810) in Amsterdam. The candlesticks are twisted and constructed with a baluster-shaped stem. The whole is richly decorated with flowers, leaf vines and seed beads. A pair of comparable candlesticks can be found in the Rijksmuseum (object number BK-14413-A) and is mentioned in the book 'Amsterdam gold and silver' by J. R de Lorm, on page 162.
The other set was made by Wouter van Baalen (born 1965), born in Schoonhoven. After studying silversmithing at the Vocational School in Schoonhoven (after all, an apple doesn't fall far from the tree), he worked for various companies at home and abroad before opening his own studio in the Amsterdam Jordaan in 1993. His designs are recognizable, excel in originality and have a very strong three-dimensional spatial character that can be played with. His work often consists of several parts. The fact that Van Baalen has made a name for himself is clearly evident from his work, which can be found in various museums, renowned galleries and at fairs. In addition, he is the winner of the Jewelers award, 1997 and he received the jury prize of the national cutlery competition 'With the knife on the table', 1998. In short, Wouter van Baalen can rightly be called one of the leading contemporary artists in precious metals.
Under lot number 2600 we offer a set of eight silver candlesticks with the title 'Fourfold square' (2013). The eight separate candlesticks can be combined into one round and one square composition.