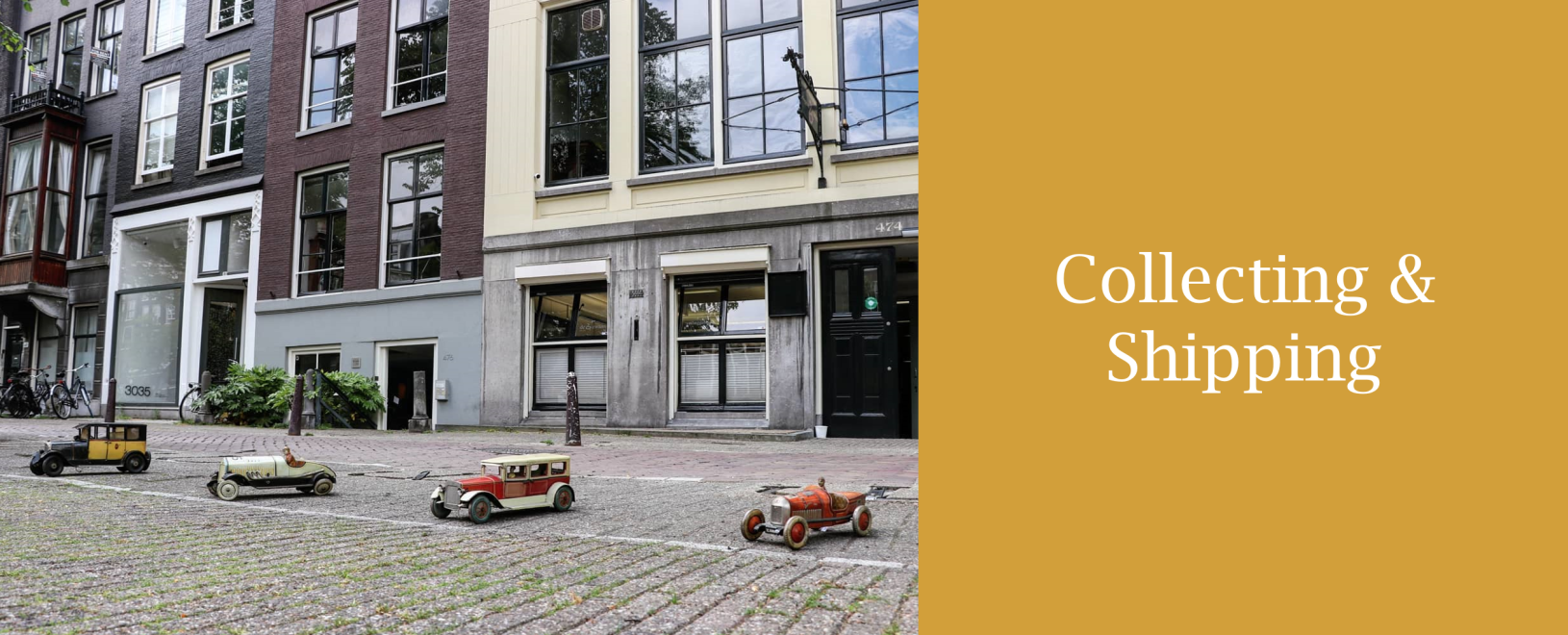 Your purchase may be collected from the auction house, Keizersgracht 474,  on designated collection days. You can make an appointment using the appointment tool on our homepage. There is a loading and unloading area in front of the building, for a maximum of 4 cars or 1 truck.
Payment in full is required before collection. We accept cash or debit card transactions in person at our office. We do not accept Credit cards. Payment by can also be made by bank transfer, to our bank account NL35 INGB 0697 4124 15, with your invoice number as reference. Allow enough time to ensure that the funds have been received in our account before collecting goods.
If you need help with transportation, we recommend you request a quote free of charge, and without obligation, from the carriers listed below. Contact us once these arrangements have been finalised. Your specified carrier  can collect the objects from us once we have received payment in full.
Shipping
Small goods and paintings can be sent to you by parcel at any address in the Netherlands and abroad. We work together with Easy2Send for this.
Easy2Send is specialized in fast transport. From simple courier assignments to exclusive items and customized transport. For a customized quote (before or after your purchase), please visit the website:
Veilinggebouw de Zwaan – Easy2send – Direct Free Quote
Delivery
Shipping of largers goods by delivery Can be done by one of our couriers. Please contact them for making an appointment or request a price quote. Both operate on hourly basis. After we received your payment, goods can be collected as soon as possible.
Please let us know which courier carries out the order for you.  You can also instruct us to deliver items to a courier of your choice.
Joost Habing Kees Transport
NDSM plein 23
1033 WC Amsterdam
Tel: 06 – 29 51 29 65
E-mail: info@burokeesamsterdam.nl
Costs:
Van with driver € 55,- per hour
Extra person € 25,- per hour
Mileage allowance outside Amsterdam € 0.35 per km
All prices include VAT
Goods are delivered to an agreed location in the property, including hoisting where necessary.
Maximum sizes: L. 270cm, W. 160cm, H. 160cm (paintings H. 205cm.)
M. Riksen Verhuizingen
Witbolstraat 42
1032 LD Amsterdam
Tel : 020 – 63 11 540
Mob : 06 – 53 48 97 97
E-mail: m.riksen@live.nl
Costs:
€ 90,- per hour for two people and a car (ex VAT). Goods are delivered to an agreed location in the property.